A trip that was once done without thinking, was an emotional roller coaster for Australian – and Flight Centre Travel Group's NZ Managing Director – David Coombes. Based in Auckland, with his wife and two children, David recently travelled to Brisbane to attend the Global Managing Directors' Conference and Australian Senior Leaders' Conference. The trip was his first taste of international travel in the post-lockdown world. Here, he's shared his experience with us…
The Trip
Auckland to Brisbane, flying Air New Zealand March 2022.
Expectations
There's no hiding that I was super excited. My departure was one day short of two very, very long years since borders closed. During this time, we have globalised as an organisation, and to see colleagues I've been on daily and weekly zooms with - in person – was epic. And, I have no doubt, a lot more productive. I also lived in Brisbane for 14 years, so it was a bit of an emotional reunion to get to see friends and family again. I received good travel advice, I'm vaccinated, was insured and backed by experts – so there was nothing to be nervous about.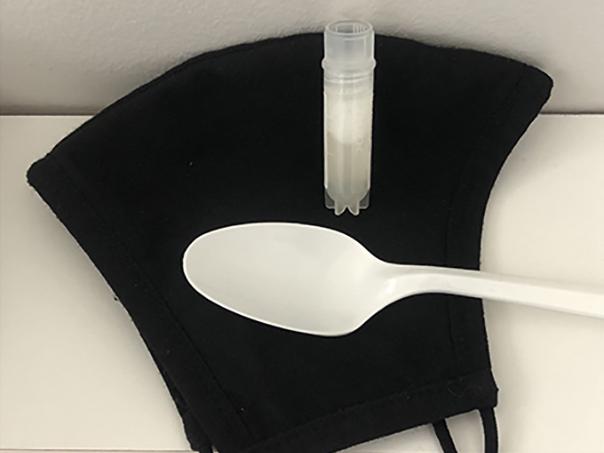 Pre-Departure
I was feeling confident and totally on top of the task, only thanks to being very well-informed by my travel manager. I wouldn't want to do it on my own. In the days before departure, I visited a Rako Science location for the required PCR test. All up, this took less than 10 minutes to provide a saliva sample, very easy. I chose a PCR test, but it was my understanding that you could also get a supervised RAT within 24hrs. Testing was also available at Auckland International airport, but results take 24 to 36 hours.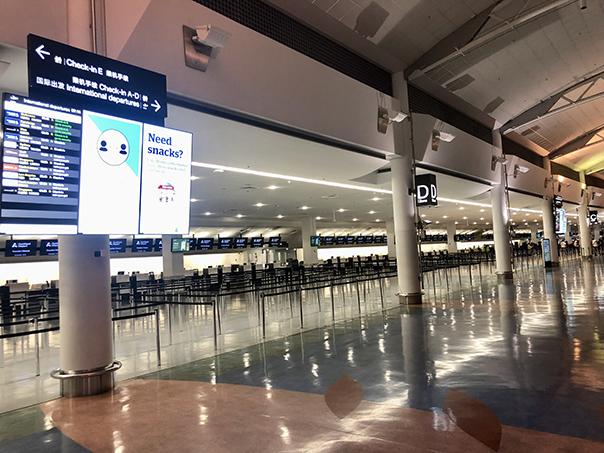 At the Airport
I naturally expected the whole check-in process to be slower, but no. But I couldn't use the Air NZ app to check-in online, as the International Vaccination Pass couldn't be loaded onto it. But I had no problems using the self-service kiosk to manually check myself in. Easy. I zoomed from baggage drop to the airport lounge in under 25 minutes. I have to confess, I did have the benefit of using the premium check-in zone. Having said that, the airport itself was very deserted, as the majority of international carriers were still not operating.
Surprisingly, I didn't have to show any evidence of my pre-departure COVID-19 test. Presumably, this was all linked to my passport after completing the pre-departure passenger declaration for Australia. Honestly, apart from not being able to check-in on the app, and wearing a mask of course, there was no real difference with the process pre-COVID-19 (as far as I remember, it was that long ago!). Easy peasy!!
Duty Free
Don't plan on spending hours duty free shopping, as many of the outlets weren't open. Speciality duty free stores such as Rolex and Coach were still closed, but you could shop for items like alcohol, cosmetics and electronics at some of the larger outlets, such as The Loop. The only other shops open at the time were a newsagent/bookstore and souvenir shop. Similarly, food and beverage outlets were mostly closed, the only one I could see open were Best Ugly Bagels and Vantage Bar. So don't turn up with a grumbling stomach.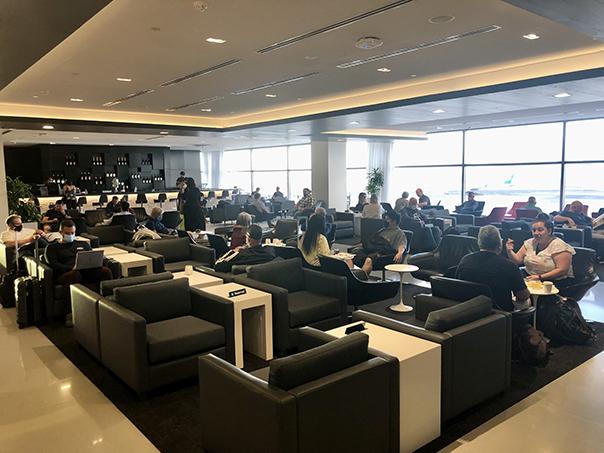 Lounge Access
While there was no need to escape the crowds (because there weren't any!) it was still nice to retreat to the lounge (ahhh, it felt like home) and see that the offering was pretty much as I remember it. The difference was that masks were naturally required and it's self-service, apart from coffee – which the Air NZ app prompted me to order. Even though it was early in the day, the momentous occasion (getting on an international flight!) did warrant a glass of celebratory bubbles!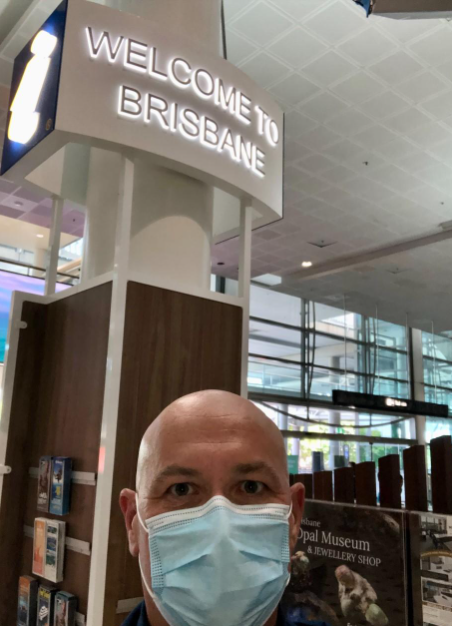 On Board
BYO favourite mask or one will be provided for you if you forget it. During the flight mask regulations were same, same. You know the drill – you need to wear it for the entire trip unless eating or drinking.
Arrival in Brisbane
Touch down – and just like that I'm back in BrisVegas! On disembarking I didn't expect such a laid-back arrival process. I wasn't asked for any documentation, wasn't given a RAT to use or any information about my testing obligations. So it was fast getting through immigration.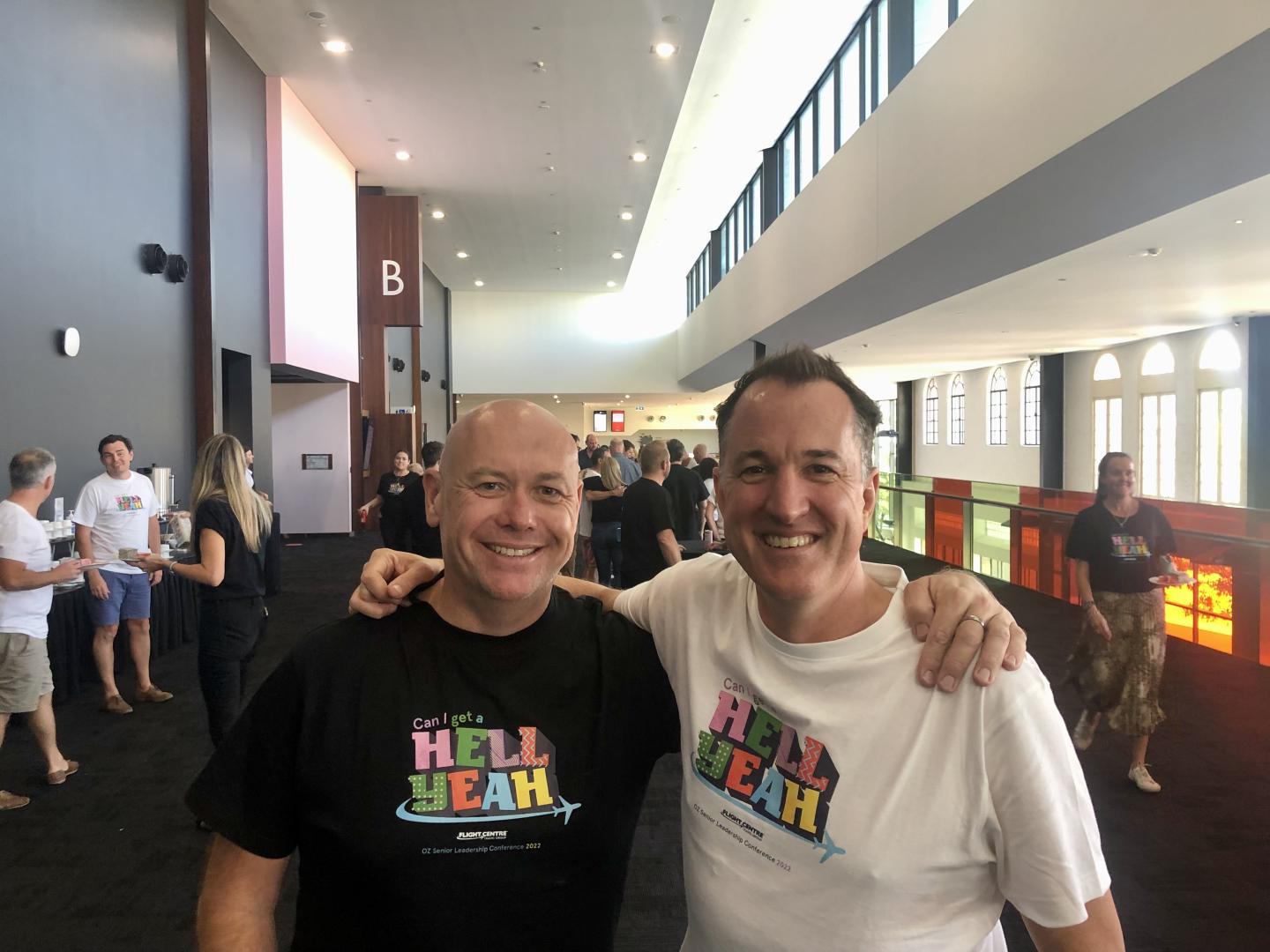 Dave Coombes with Tom Walley, Global Managing Director of Corporate Traveller
It genuinely couldn't have been easier – thanks to following my Corporate Traveller checklist. I would have hated to do the research myself, as I'm not exactly known for my attention to detail! But armed with a checklist, I just ticked it off and everything went smoothly.
And at the office? Well, I can't even put into words how nice it was to walk into a room full of friends and colleagues that I hadn't seen in person for almost three years. It was handshakes, back slaps and hugs all round. The energy generated by being together again was contagious. It reminds you that, no matter how much you try to convince yourself, meeting by zoom really is a far poorer experience.
Book your flights early, as there are still capacity limitations.

As conditions continue to change, visit our COVID-19 Travel Hub or speak to your Travel Manager, to make this easier. 

If you have lounge membership treat yourself to a drink, the return of international travel really is worth celebrating.

Book a trip, be prepared and you can't go wrong.
For more information and travel advice contact Corporate Traveller.
Need help with an upcoming business trip?
Talk to us today.