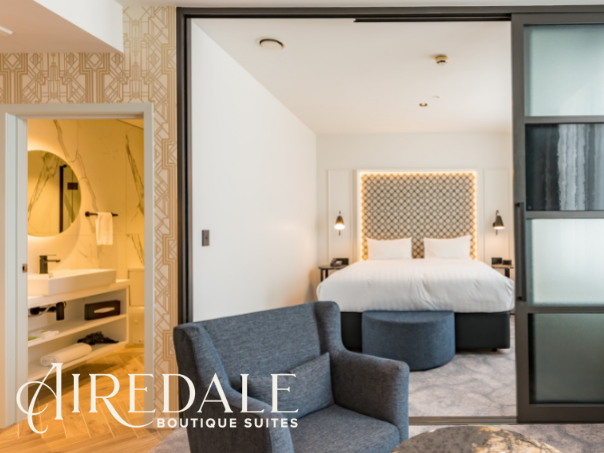 To celebrate Auckland's borders reopening on 15 December, Airedale Boutique Suites is also reopening on that day.
We have a special rate loaded for bookings and stays from 15 December 2021 – 30 June 2022.
Classic room                     $155
Signature room                $165
Airedale Boutique Suites, on Queen Street in the heart of Auckland's theatre district, has undergone an extensive refurbishment, from the interior rooms, to public spaces and through to the restoration of the heritage façade.
The new hotel embraces the history of this iconic Auckland building to create something unique and authentic, combining the flair of art deco architecture with modern style and comfort. Formerly the Scenic Hotel Auckland, Airedale guests can expect a whole new level of service, being welcomed by our attentive, respectful, and professional hotel team, ensuring they have a premium experience to remember.
We have also implemented eco-conscious options where possible throughout our entire hotel and operations to ensure we leave a positive impact on the world around us.
Talk to your dedicated Travel Expert today
Corporate Traveller has access to exclusive rates, discounts, and benefits, saving you money while improving comfort for your travellers.