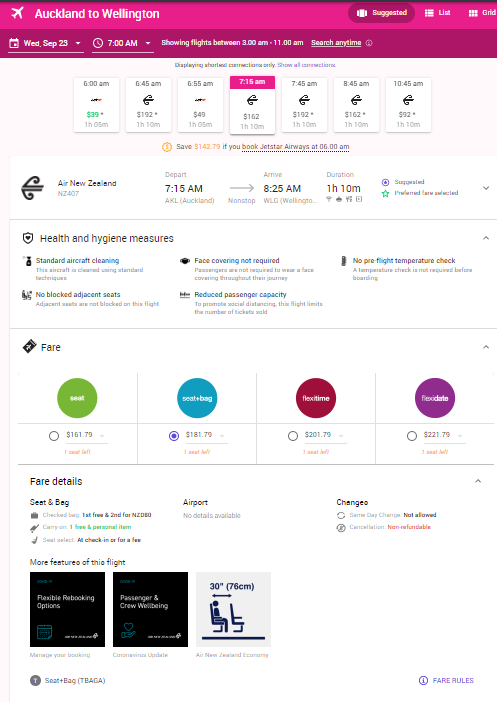 The way we think about and do business travel is completely changing, and the safety and wellbeing of travellers is more important than ever. Bookers and travellers want to know what to expect from airlines and accommodation providers before they book, and reassurance that they're choosing the safest options available.  
Corporate Traveller's online booking tool SAVI provides you with informed travel choices when booking your next business trip, with even richer information on airline safety measures for COVID-19 and flexible accommodation filters. 
Get across the latest COVID-Safe protocols at the time of booking 
When you book through SAVI, you get real time detailed information on aircraft cleaning protocols, mask requirements, temperature checks, passenger capacity and seat spacing for each flight with ATPCO Routehappy's new Structured Reassurance UPAs (Unified Product Attributes). This new feature helps bookers understand what COVID-19 measures airlines are taking, give travelers reassurance, and ensure the safety and wellness standards of your travel programme are being met. 
Save on potential cancellation costs with SAVI's advanced accommodation filters 
SAVI has added more advanced accommodation filters to quickly identify "Free Cancellation" options for bookings that will not incur a penalty if a trip needs to be cancelled. This will be supplemented with enhanced accommodation safety and cleanliness information, which will be available in SAVI at a later date. 
The enhanced airline UPAs and the additional hotel filter functionality will automatically be available now on the Itinerary screen when reviewing recommended travel options in SAVI.
Book your SAVI demo today