At Corporate Traveller, we're all about making business travel easier and safer for your organisation, which is why we offer one simple travel booking platform. 
Your.CT not only allows you to report and manage related expenses, it helps you stay across duty of care for your travellers. This is why we stay at the forefront of developing TMC technology to support the ever evolving needs of our customers. 
Here's a quick update of what we've been working on to make sure you have access to the latest COVID-19 information from suppliers such as airlines and hotels, as well as reassurance that health and hygiene processes are in place.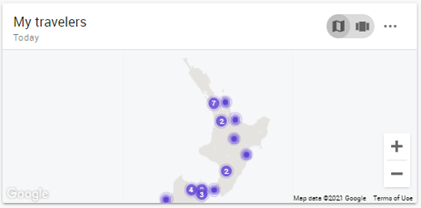 NEW!
Keeping Savi with Traveller Tracking
Ever wanted to find out where all your travellers are today, in the next 7 or 30 days?  The My Travellers widget is available on the Savi Dashboard. 
It's simple now with the My Travellers widget. Based on your access, you can view your bookings, bookings for your cost centre or the entire business in 3 clicks. 
Step 1 - Click on the 3 dots  
Step 2 – Select what you want to see  
Step 3 – It's done. You can view in map view or carousel view which allows you to hover or scroll through trips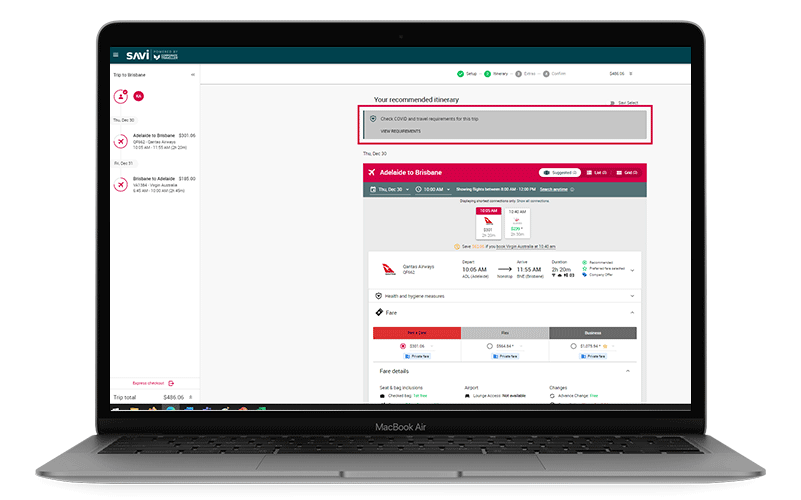 Get travel ready with TravelSafe
Stay updated on the complex and fast moving world of travel requirements with Savi's new TravelSafe functionality. TravelSafe provides detailed border restrictions and entry requirement details for users travelling to and through Australia, as well as Internationally. Visible as a pop-up at the top of the booking availability screen, TravelSafe is powered by Sherpa, a global leader in travel safety. The travel data draws on intelligence from over 2,000 official sources including government, travel and professional service organisations.
Users simply click 'View Requirements' on the banner at the top of the booking availability page to see what is required for interstate entry, transit and arrival. Guidance covers passport, vaccination, COVID-testing and quarantine requirements.
Users can view travel advice per state and territory based on whether they are COVID-19 vaccinated or unvaccinated.
TravelSafe benefits include:
Quick and easy access to itinerary-based travel guidance during the booking process
TravelSafe functionality and online integration is part of our partnership with global travel safety experts Sherpa
Data is transmitted over SSL (secure sockets layer) with TLS 1 (Transport Layer Security)
Complies with the Open API standard (platform plug in standards) and is identified by the International Air Transport Association as best practice for the airline industry.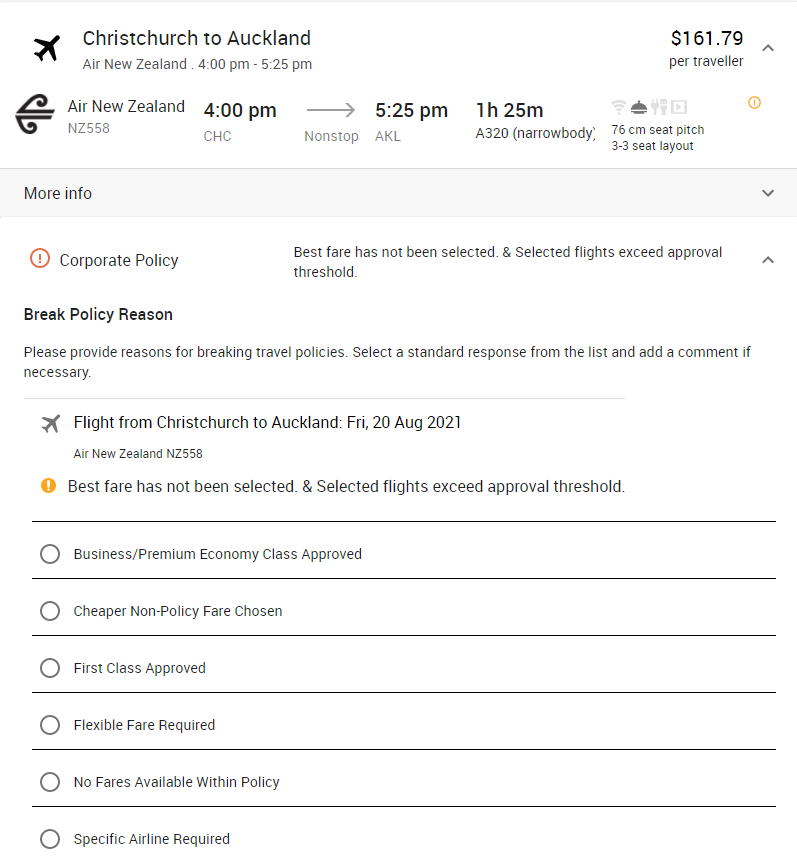 Approval by Price in Savi
Corporate Traveller's online booking tool, Savi, now features "Approval by Price" functionality.
This new capability is an additional trigger aimed to enhance your organisation's approval workflow. It enables organisations to implement price thresholds per air, hotel or car segment booking.
How Savi Supports Travel Policy Compliance
When the total cost of an air, hotel, or car booking exceeds the allocated budget amount a message will be displayed to the traveller/travel arranger on the itinerary selection page. This message will inform them their selection exceeds the trip budget amount set by their organisation.
If the traveller/travel arranger proceeds with their booking, this will break company policy and they will need to provide reason(s) on the confirmation page before the booking can be completed.
This is great for businesses, with a variety of tailored configurations such as auto-approvals for in policy booking, therefore empowering your people and only having approvals flagged that exceed these limits. This is a massive win in the war against admin, your people will love it as travel can be booked quicker and approvers only need to see what they need to action. 
SAVI Clean Hotels Indicator - NOW LIVE!
The new 'Clean Hotels' indicator allows users to see at a glance hotels which have implemented new health and hygiene measures to ensure traveller wellbeing throughout their stay.  
As border restrictions lift, both domestically and ultimately internationally, having easy access to this information at the time of booking will not only provide travellers with confidence in their accommodation choices, but will also support your organisation's duty of care. 
Our online search just got easier to spot value! In addition to having been audited for Covid-Clean practices, every property in our SmartSTAY programme now includes four value-added inclusions across a wide range of benefits, saving you money, reducing expense claims and creating an even better experience for your travellers. This is a great program to look out for, with over 50 participating properties across New Zealand, 400 across Australia, and 4,500 globally - we have a fantastic coverage.
This visibility in parallel with the new 'Clean Hotels' indicators gives our bookers and travellers confidence that every effort is being made to keep them safe and healthy whether they are flying or lodging.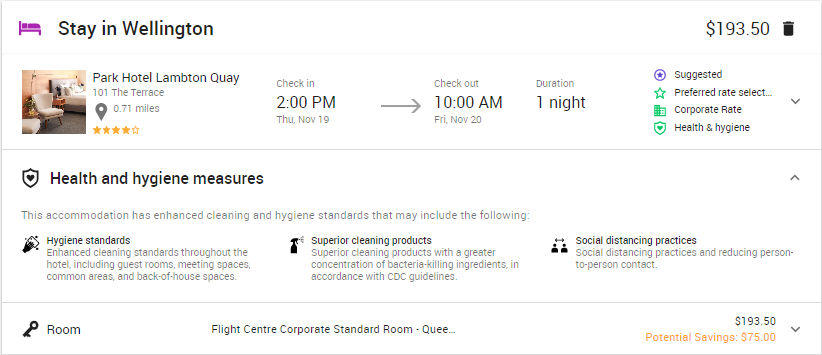 Also now live is the fully integrated display panel for the hotels credit as a Clean Hotel. The suggested view includes a clear overview of the health and hygiene measures that the hotel has implemented. 
Your.CT's Safe and Secure module helps keep your business and travellers up-to-date on events that impact travel schedules, while our reporting provides full visibility into your travellers' whereabouts.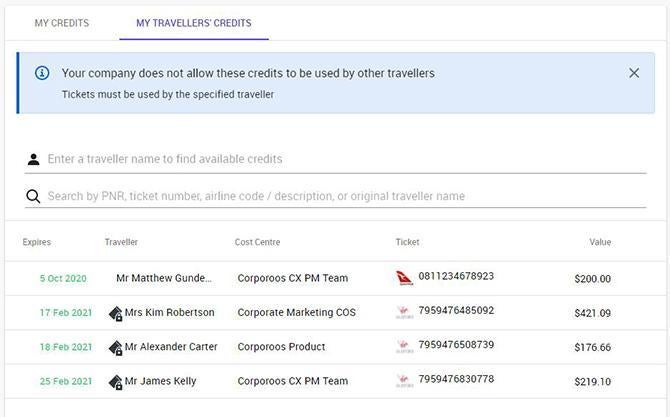 COMING SOON
SAVI Credits - No Credit Left Behind!
Corporate Traveller understands the importance of credits and cost-controls as businesses start to emerge from COVID-19.
The SAVI credits module provides visibility and utilisation of unused ticket credits and consists of:
A smart dashboard widget which gives your travel bookers and travellers clear transparency over their next to expire ticket credits.
A clearly defined booking process that allows the utilisation of unused ticket.
Corporate Traveller will ensure that your full ticket pool is available in SAVI and updated in real-time ensuring that NO CREDIT IS LEFT BEHIND!
Along with SAVI's ability to deliver the latest COVID-19 health and safety information, manage credits on hold and keep track of your traveller's safety, SAVI's design and functionality will drive compliance, giving you more control and visibility of your travel spend and activity.
Need a refresh of our technology solutions?
Contact our dedicated Travel Experts to get the best tech solution for your needs.