I've always discounted Rotorua as a weekend getaway destination, however, after my recent two-day jaunt it's safe to say I'm converted!
Rotorua's location makes it an attractive choice. Did you know it's only 3-hours drive from Auckland? It's accessible to nearly 50% of the country's population via either road or air with Air New Zealand.
It's also ranked 4th on the list as New Zealand's must-see destinations, attracting 2 million domestic visitors in 2017. It's a popular choice for international travellers too, with nearly one-third of all international visitors stopping by. In fact, the New York Times says Rotorua is the only NZ town worth a visit!
Thanks to our preferred partner, IHG, I was about to find out why.
I'm not a big Lord of the Rings fan but was told that Hobbiton is a must. That's why we found ourselves driving the country roads toward Matamata's biggest tourist attraction. The rolling hills providing the perfect landscape to what is at first glance, a nondescript set-up.
We were greeted by our guide and jumped on board the Hobbiton coach, edging our way closer toward Middle Earth. If you've got a larger group you can stay aboard your own coach for ease, but otherwise private vehicles are not permitted onsite.
Our guide was fantastic and took us on a journey to explore the filming locations, all the way describing the set design and construction. Despite not being a big fan, the magic of this incredible space was certainly not lost on me. It's simply spellbinding. As you wander the paths through The Shires Rest and hobbit holes, you're transported to an idyllic world.
We stopped at the iconic Green Dragon Tavern and sat down for a hearty lunch and ale. They host a range of corporate events here and if you're looking for something magical, I'd highly recommend the experience. From evening lantern-lit tours to a village fete, market stalls, tented buffet dining, private meetings including discreetly hidden projector, Hobbiton would elevate your meeting or event to the next level. I simply can't express the magic this destination places on you.
Relax at the Holiday Inn, Rotorua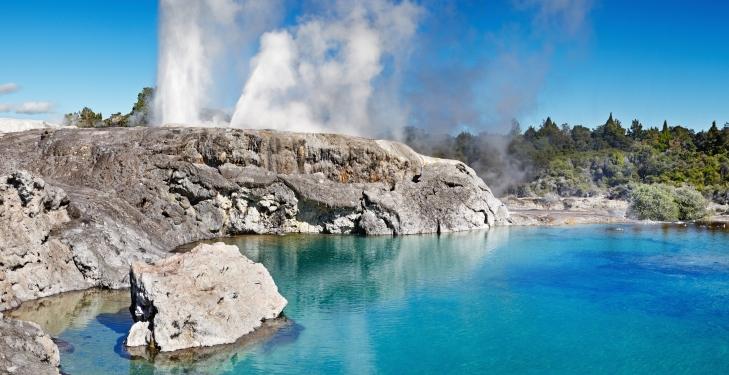 Checking in at the Holiday Inn, Rotorua evokes a sense of immediate relaxation. Overlooking the Pohutu Geyser and Whakarewarewa Forest it's in the perfect location. To complete the package, the hotel boasts a thermally heated pool, spas and an event space catering for up to 500 people.
While the facilities are impressive, it was their Pohutu Cultural Theatre that stole the show for me. Stunning Maori statues and water features decorate the walls and surround the built-in stage providing the ideal focal point whether it be a conference, event or awards. If you're looking for wow factor, this space is it. If you're after something smaller, their many private spaces will do the trick with their natural light and inbuilt AV.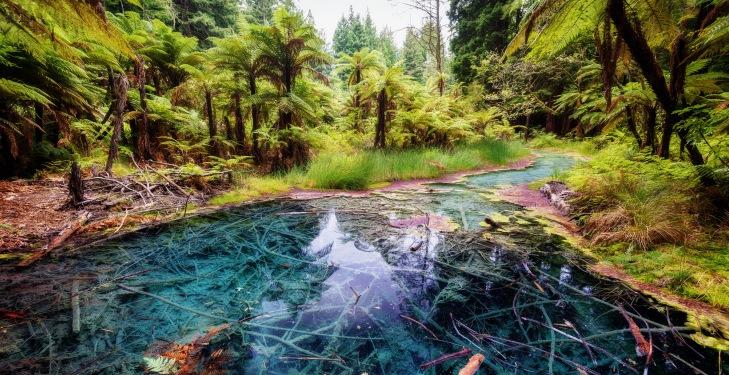 If you've ever gazed at those huge forests and thought gosh those trees are tall, Redwoods Treewalk will put it in perspective for you.
A series of 12m high suspension platforms and bridges take you on a 30 minute traverse between 22 giant 116m tall Redwoods. Dotted throughout the trees are stunning  David Trubridge lanterns, which upon nightfall are lit up and provide a magical night time experience.
Imagine a casual breakfast suspended in the trees to kick off your day, or an evening cocktail in the trees at the conclusion of your conference day. The Under The Sails venue, a canopied open-air, all-weather function space is a unique space to hold any event. Surrounded by these giants of the forest it's a destination that's set to impress.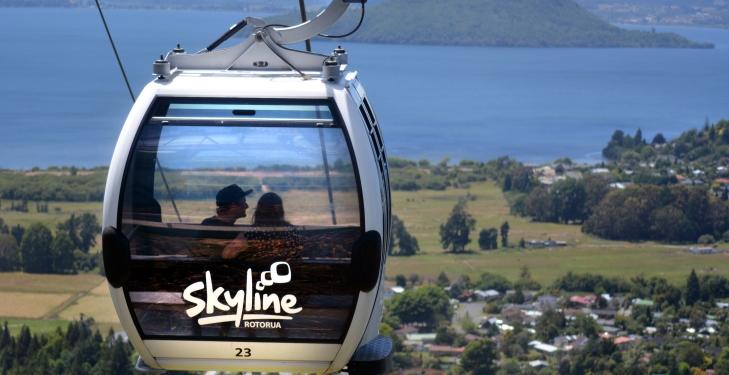 Just 10 minutes away is the Skyline Rotorua. A multi-function space of breath-taking views and countless experiences. Everywhere you look the views are mesmerising. Board the gondola and float above the mountain bike track, before disembarking and wandering the many spaces including the: Jelly Belly store, VH cellar door, ziplining, Skyswing, luge and multiple dining experiences.
Large or small groups are well catered for here – conference in the morning, luge in the afternoon? Not a problem. Cocktail function for 1000? Not a problem. Incentive group spending the day indulging in activities and fare? Not a problem, and as a bonus the preferential wristbands will see them jump the queue.
You name it, you can do it at Skyline Rotorua!
Book your trip to Rotorua
If you'd like to explore the wonders of Rotorua, simply get in touch with us today.