Where to stay, what to eat, and how to find your way around
Between the Waitematā and Manukau Harbours, with the iconic Sky Tower at its centre, Auckland has a lot to offer business travellers. However, if you're someone who regularly plans and manages employees travelling to the City of Sails, there are a few things you need to consider.
It's important to know that Auckland is large and spread out. Where your traveller needs to be for work will affect the accommodation and food amenity options available, as well as how much your traveller will need to spend on getting around the city.
To help you better plan and manage business travel to Auckland, we've put together this in-depth destination guide that will cover:
Hotels in Auckland

Hotels in Auckland's CBD
Top Auckland hotel recommendations
Auckland Airport hotels
Hotels on Queen Street
5-star hotels
4-star hotels
Waterfront hotels in Auckland
Hotels on the North Shore
Getting around Auckland

Taxi fares
Uber
Using the SkyBus
Using the Super Shuttle
Public transport
Renting a car
Eating and drinking in Auckland

Our favourite restaurants and bars
Rooftop bars in Auckland
Restaurants and bars in Ponsonby
Restaurants and bars on the North Shore
Meeting rooms in Auckland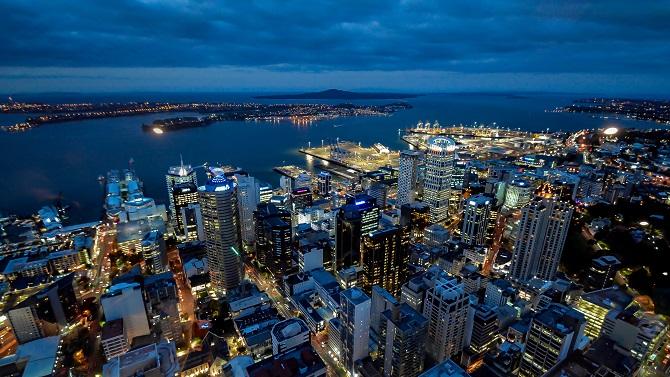 Business travellers are spoilt for choice when it comes to accommodation options in Auckland. From contemporary boutique hotels to 5-star establishments and waterfront properties, you're sure to find something suited to your traveller's needs.
Auckland's international and domestic airports are a 30-minute drive from the city centre (with no traffic) so when choosing accommodation don't forget to also book transfers, allowing for plenty of time before their first meeting. If their flight home has an early check-in, consider booking a room for one night at an airport hotel.
Hotels in Auckland's CBD
Most of the time, business travellers will be staying and working in Auckland's CBD – which is also where most hotels are located, making booking travel itineraries super convenient.
You'll need to consider noise if you're staying in the city, especially at the end of the week. From Thursday to Sunday, Auckland's CBD is busy and can be noisy due to nearby bars and nightclubs. There's a lot of new construction happening too.
Top Auckland hotel recommendations
Our favourite hotels in Auckland are our Corporate Traveller SmartSTAY hotels – and for good reason.
Every time you check in to a SmartSTAY hotel, your traveller will receive at least three complimentary add-ons including free breakfast and Wi-Fi, plus a third benefit specific to each hotel. This might be early check-in, late check-out or laundry services.
SmartSTAY hotels are a great way to make your travel budget work more efficiently for your travellers. Whether they want to relax after a hard day's work or stay productive in their downtime, they're guaranteed comfort, convenience and productivity every time they visit.
Outside of SmartSTAY, there are lots of hotels we would happily recommend. We've separated our recommendations into categories below and have indicated whether they're a part of the SmartSTAY programme.
Auckland Airport hotels
Sudima Hotel is an award-winning 4.5-star hotel located approximately 2km away from Auckland Airport. It includes a free shuttle to and from the airport, has heaps of car parking and several conference spaces available for hire.
Jet Park Hotel has been dedicated to excellent service and genuine Kiwi hospitality for 20 years. Services and facilities include an airport shuttle, car parking and excellent conference facilities.
Lastly is the newly refurbished Holiday Inn Auckland Airport. Named as Oceania's Leading Airport Hotel in 2018, it has common spaces, huge conference facilities and fantastic food and beverage options. 
Hotels on Queen Street
Boutique Hotel of the Year in 2019, Hotel Grand Windsor has all the sumptuous amenities you'd expect from a 'royal' hotel. It offers guests luxury rooms and suites, exquisite dining experiences, and a great range of wellness facilities.
Embrace style and comfort at Four Points by Sheraton, a chic hotel located in the heart of Auckland's CBD. This hotel will be your home away from home with modern rooms and suites, complimentary high-speed Wi-Fi, and delicious meals and signature brews at the famed Queen's Head Bar & Eatery.
The Scenic Hotel may be currently undergoing renovations, but upon reopening this place is going to be a fantastic spot to watch the world go by (when you're not working of course!) It's located halfway down Queen Street, away from the noisier end of town.
5-star hotels in Auckland
Cordis is not only a SmartSTAY partner, it also puts every modern amenity at your fingertips. Located at the top-end of the CBD, it has stunning rooms, great dining options and is very close to Auckland's Domain – perfect for an early morning stroll.
So/ Auckland in downtown Britomart, also a SmartSTAY hotel, is easily accessible by all modes of transport, well-equipped with add-on services for business travellers, and is within walking distance to countless bars and eateries in the Viaduct or on Wynyard Quarter.
With many of Auckland's most impressive attractions and eateries literally on its doorstep, the SkyCity Grand is the epitome of 5-star luxury accommodation. It has everything a business traveller needs it's a SmartSTAY partner, has 24-hour room service and gym, an executive car service, great motorway access, daily laundry, free unlimited Wi-Fi, and a state-of-the-art business centre.
4-star hotels in Auckland
Winners of New Zealand's Leading Business Hotel in 2018, the Crowne Plaza offers a world-class hotel experience, with a little Kiwi flare. It's also one of our SmartSTAY hotels so you can take advantage of free Wi-Fi and breakfast.
The Grand Millennium has stylish rooms with smart design and chic decor, floor to ceiling windows for natural light, and modern amenities to ensure you have a comfortable stay. They also have high-quality facilities including conference rooms.
Another SmartSTAY hotel, Rydges, is an excellent choice providing contemporary accommodation with trademark warm Kiwi hospitality. In proximity to the city centre, most rooms overlook the Sky Tower or the Harbour Bridge.
Waterfront hotels in Auckland
You couldn't get any closer to the water than at the iconic Hilton. Sleek rooms, sundecks, private balconies and walls of windows, and it's a quick walk from the CBD and Quay Street restaurants, shops and nightlife.
At the M Social, every room has stunning water views over the Auckland Harbour. It's also in a great location, is super funky and comfortable, and within walking distance of everything a business traveller needs.
Opening in early 2020, Park Hyatt will be the premier property in Auckland with unobstructed views of the Waitematā Harbour. Everything about the Park Hyatt is thoughtfully considered – stunning architecture, interiors by world-renowned designers, expertly curated art collections and elegant furnishings.
Hotels on the North Shore
For accommodation options outside the hustle and bustle of the main city, you can't go past the Ramada Albany.
A short 20-minute drive north across the Harbour Bridge, the Ramada Albany is a SmartSTAY partner, caters well for both short-term guests and longer stays, with all rooms featuring kitchen and laundry facilities.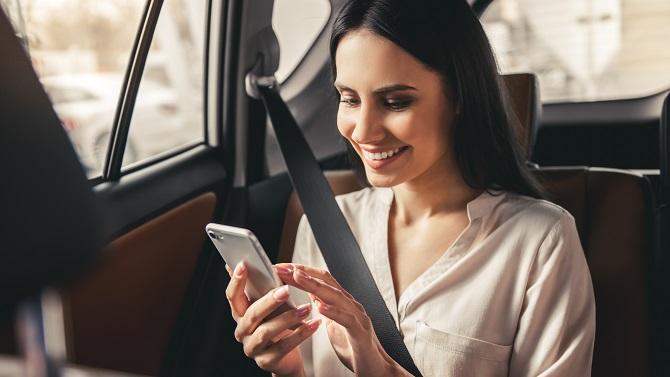 When your business travellers land in Auckland, the first order of business will be getting them from the airport to their accommodation. Auckland's international and domestic airports are a decent drive from the city centre – 30-60 minutes depending on traffic. If their accommodation doesn't include airport transfers, here are your options.
Taxi fares
You can expect to pay between NZ$40 and NZ$75 for a taxi from the airport to town. If your traveller needs to use taxis to get to and from business meetings, the average taxi fare currently sits around NZ$2.45 per km.
This is where working with a travel management company like Corporate Traveller is beneficial. They can pre-book your taxis using exclusive rates, ensuring you're never left stranded at the airport. You also don't have to worry about paying – this will all be charged back to Corporate Traveller for payment in your monthly-consolidated bill.
Uber
Simplify your team's ground transportation and easily manage their work travel with Uber for Business. Your travellers can request reliable rides with Uber from one global app and can streamline expenses in their business profiles.
Using the SkyBus
For a fast, frequent and affordable public transport option, consider using the SkyBus. It runs between the airport and the city, leaves every 10 minutes during peak times and costs NZ$17. At the moment there is no direct train line to the city from the airport.
Using the Super Shuttle
Alternatively, if you'd prefer a pre-booked shuttle transfer that takes you directly to your hotel's door, look no further than Super Shuttle. Like pre-booking taxis, Corporate Traveller can also pre-book your shuttles, so your traveller doesn't have to worry about paying them directly. Tip: your traveller will likely have to detour around the city at multiple hotels before reaching their destination, so this option isn't for the time precious.
Public transport in Auckland
The public transport system in Auckland is a good way to get around. Travel by bus, train or ferry easily throughout the inner city and wider Auckland region. You can expect regular routes to main attractions and entertainment hubs, and more sporadic timetables the further out of the city you go.
If your travellers will be using public transport frequently, they should buy AT HOP travel cards for NZ$10. These can be purchased online or from an AT HOP retailer, and will save you at least 25% off single-trip cash fares.  
Renting a car
If you need to travel across or outside of Auckland for business, hiring a rental car might be the most efficient option.
Book your car hire with Corporate Traveller and you'll receive great SmartDRIVE rates – helping you to arrive at your destination for less – as well as a minimum of three free extras from SmartDRIVE partners including Air New Zealand Airpoints Dollars™, discounted airport pickups and reduced vehicle excess.
It's also all pre-booked so if you must step off the plane into a meeting, there's less to do over the counter.
Eating and drinking in Auckland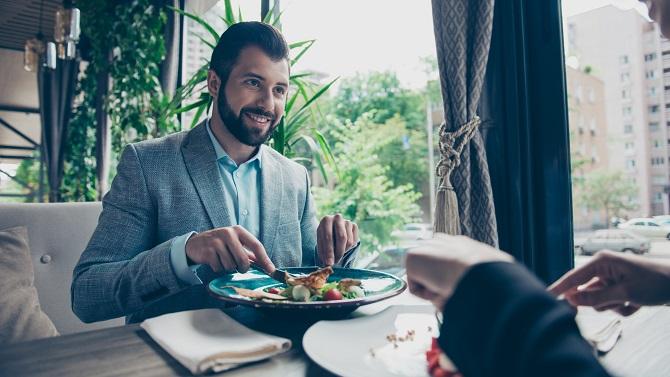 There's nothing better than kicking back after a long day at the office with good food and a cold beverage. Luckily, Auckland's food scene is full of tasty options from a variety of cuisines – ranging in price from quick eats to fine dining, and everything in between.
All our recommendations are suitable for business travellers. Be sure to check with your travel expert first as many hotels in Auckland's CBD will allow for your meals to be charged directly to the hotel. It's one less expense claim your traveller will need to worry about. Another tip – some of our SmartSTAY hotels offer discounts for their own restaurants and bars.
Our favourite restaurants and bars in Auckland
The Hilton's FISH serves a variety of New Zealand fish and sustainably sourced seafood with spectacular harbour views. They often have a great express lunch menu.
Vue at the Grand Mercure boasts stunning panoramic views of downtown Auckland. Their dishes are best shared – don't pass up the famous king prawn red curry, Wagyu double cheeseburger or braised lamb shoulder with a side of truffle fries.
If French cuisine takes your fancy, feast your eyes and appetite on Harbour Society's elegant dishes by renowned Michelin-starred chef Marc de Passorio at the So/ Auckland.
Lastly, there's Gusto at the Grand, a rustic Italian restaurant located in the SkyCity's Grand Hotel, the perfect spot to share a meal with work colleagues or enjoy a cooked to order à la carte breakfast.
Rooftop bars in Auckland
When looking for a local watering hole for a round or two of after-work drinks, try the Glass Goose, tucked away from the city's bustle at the top of a hidden staircase just off Federal Street. Dr Rudi's on the Viaduct has its very own 1000L onsite brewery, constantly pumping out award-winning beers. It also has two bowling lanes for punters to take a crack at. Or try newly opened Churchills atop the Four Points by Sheraton.
Restaurants and bars in Ponsonby
Ponsonby Central is jam-packed with mouth-watering boutique restaurants and bars. The Blue Breeze Inn, Bedford Soda & Liquor, Little Bread & Butter – the list goes on. The hard thing is, they're all worth a mention!
Restaurants and bars on the North Shore
If you find yourself on the North Shore for lunch or dinner, head to Main Beach Takapuna where you'll find the Regatta Bar & Eatery, Franc's and Tokyo Bay. Also, don't walk past Takapuna Beach Café (be sure to try an almond croissant or a scoop of gelato from Amano Bakery next door).
Meeting rooms in Auckland
Boardroom or conference style, large or small, natural light, catering – the list goes on! There are plenty of meeting rooms for hire in Auckland – it's just a matter of finding one that suits your traveller's needs.
Here are a few recommendations:
M Social in Auckland's CBD is the crème de la crème of meeting rooms. Each room has floor to ceiling windows overlooking the harbour, and you have the option of a fully stocked fridge including drinks (non-alcoholic and alcoholic).
For larger groups, the classic old-world charm of the Cordis is a great option. They have everything you need to make business a pleasure with 13 flexible venues, cutting-edge presentation technology in every room, an on-site AV team and your own personal events executive. Also, plenty of parking for any out-of-town guests.
If you need options near the airport, Sudima Hotel, Jet Park Hotel and the Holiday Inn all have excellent conference facilities and are a couple of kilometres from the airport.
Ask your dedicated Travel Expert or Account Manager about cimeetings. This online quoting tool takes the pain out of organising conference and meeting rooms by allowing you to research and quote instantly.
If you're lucky enough to have an extra day – or even an afternoon – in Auckland to explore the area, you're spoilt for choice.
Fancy a spot of wine tasting? Villa Maria, one of New Zealand's most celebrated wineries, is a 30-minute drive from the city centre (only 10 minutes from the airport). Spend the afternoon soaking up the sun between the vines.
Looking for a weekend getaway? Then catch the ferry over to Waiheke Island. Famous for its vineyards and beaches, it's a favourite spot for locals and travellers alike. For the adrenaline junkies, there's clay-bird shooting, ziplining through the trees, or hiring a bicycle and cycling the island.
Alternatively, an hour's drive north of Auckland is the quaint township of Matakana. Visit Sawmill Brewery, one of the region's best craft breweries, the Saturday Farmers Market, which is always worth a visit, watch potters at work at Morris & James or spend the day relaxing in the stunning Tawharanui Regional Park.
Closer to home, you could try a sunset kayak tour of the uninhabited Rangitoto Island or head west to the black sand beaches of Piha or Muriwai. From Piha, you can hike an easy 2km trail to the beautiful Kitekite Falls.
If you only have an hour to spare in the morning, skip your gym session and take a stroll along the waterfront instead. From downtown Auckland, follow Tamaki Drive to St Heliers Bay and soak up the magnificent harbour views along the way. 
Auckland: Big city, bigger wish list
As New Zealand's largest city, Auckland is an excellent destination for any business traveller. It has many accommodation options, all well set-up with the essentials for business travellers. It has great restaurants and bars and is easy to navigate. If you're lucky to have an extra day or two at the end of your business trip, there are plenty of recreational activities to choose from.
To get the most out of your business travel budget, work with an experienced travel management company that knows the destination well. You'll get access to programmes like Corporate Traveller's SmartSTAY and SmartDRIVE, which make frequent business travel to a certain destination easy and breezy.
Subscribe to stay up to date with industry insights