It seems like a dream, travelling for work. But as any regular can tell you, it's more demanding than it looks.
There's a lot to think about when you're travelling for work. Not only do you have the normal pressures around packing and getting to the airport on time, you also have to think about the functions you're attending, the meetings you have, and making sure you're organised from the work perspective too.
From planning the trip to getting home again, this article is the ultimate business travel checklist, for a seasoned pro or first-time traveller alike.
Before you book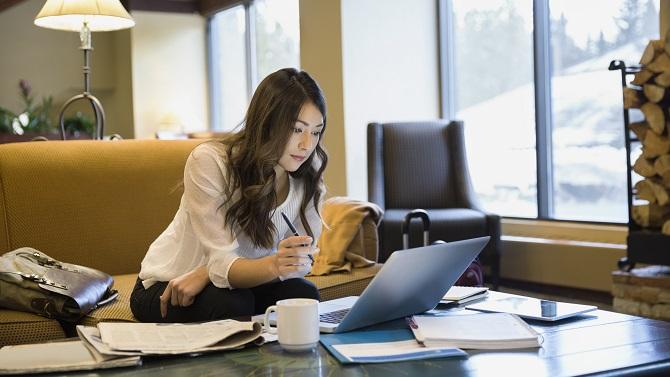 Make sure you know who is booking your travel
If you're travelling for work, you might have a travel co-ordinator at work, or be expected to book everything yourself. Find out who's booking what – flights, transfers, insurance, accommodation. You don't want to double-book, or worse, not book at all.
It's worth understanding travel policies well in advance, too. Do you have a per-diem allowance? Is there a limit on expenses? What can you claim, or not? If you have to book flights, is there a preferred airline, or restrictions around how much you can spend? It's good to be friends with the person who books your travel, too, so you can arrange for slightly more gentlemanly hours, instead of the 4am red-eye flights.
Sign up for everything you can
If your company travel policy permits, sign up for loyalty programmes (many airlines and hotels commonly offer these). If you're allowed, buy a flight lounge membership – the ultimate win for more pleasant travel.
Sign up for global entry
If you fly a lot internationally, apply for Global Entry or TSA Precheck. They make your journey through the airport easier – you won't have to remove your shoes or belt in security, well worth it if you travel a lot.
Before you fly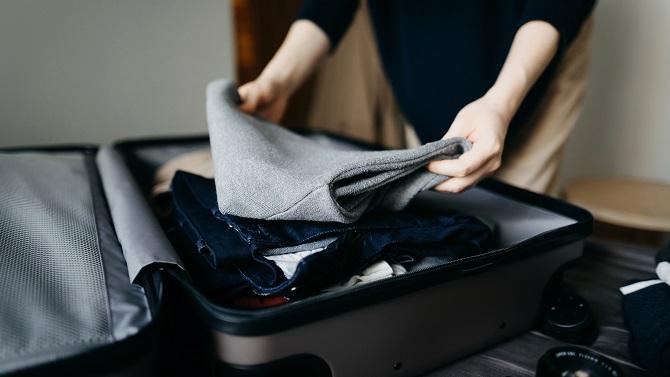 Business travel packing checklist
Once you're a seasoned traveller, you don't have to spend a lot of time packing – it becomes automatic. However, if you're new to business travel, make sure you pack:
Passport (if travelling internationally)

Business cards
Driver's licence
Laptop and cellphone charging cables and converters
An external battery charger
Jewellery and watch
Medications
Professional clothing options for all events
Work-out clothes
Sleepwear and comfortable clothes for downtime
Liquids in containers less than 100mls, if you're not checking luggage
Enough clothes so you can avoid doing laundry while you're away
Business travel luggage
If you travel a lot, you'll know how important it is to get the right business luggage. Think about the size you need, if you want carry-on, checked-in or just garment and laptop bags.
Get work sorted
Arrange all your work meetings before you leave, and if you can, make them in locations that are convenient to where you're staying. Prepare your schedule and make sure you have enough travel time between meetings. Arrange all relevant paperwork, samples, contracts and presentations, and have it all organised and packed.
The nitty gritty for overseas travel
If you're heading to another country, there might be extra things to arrange.
Tell your bank you're travelling, and make sure your VISA card will work
Ensure your phone is enabled to work overseas
Make sure your passport has enough space for stamps and won't expire within six months
Get a note from your doctor with information for customs about your medication
Check if you need travel insurance. Your company may have a policy already
Take photos of all documents with your phone, including your visa and passport
Use travel apps
There are so many great travel apps that can make your business travelling life easier. Download them in advance.
Google Maps – you can download maps of areas in advance if you'll be out of WiFi range
Airline, AirBNB, and hotel apps, if you'll be using them regularly
Uber, Ola, or Pick Me taxi apps
Google Translate, if you don't understand the local language
Time Buddy for time at multiple locations
XE Currency for live-time currency conversions
TripAdvisor, Zomato, Yelp, to judge local vendors
Skype, so you can make overseas calls over WiFi
A Podcast app, to download and save something to listen to on the flight
The Corporate Traveller Serko app for flight status updates, gate changes, and so much more.
While you are travelling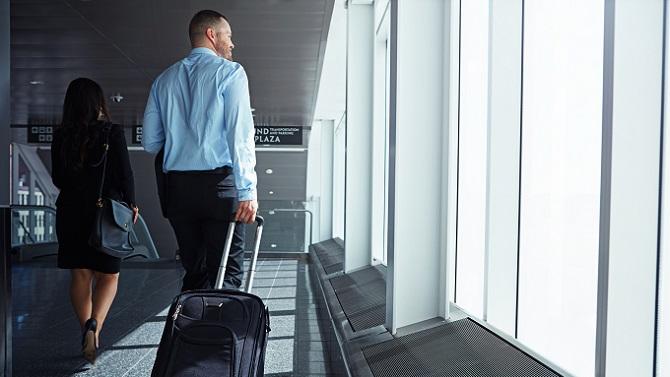 Don't hold up the queue
There are some things you can do to be a little more organised, saving yourself time and frustration, and making your fellow passengers' lives better.
When checking in, have everything you need ready to go: passport, flight info, and luggage all packed.
When going through security, wear flat, slip-on shoes with minimal metal (most heels have metal soles that set off the metal detector). Laces, heels, bulky jewellery or belts will slow you down – and everyone else. Have your laptop and other devices stored so they're easy to unpack and replace. Don't carry liquids if you can avoid it.
Workout on the day
If you're going on a long-haul flight, do some exercise the day before you leave, and aim to do some the day you arrive. Most hotels have gyms, and worst-case scenario: you can go for a walk around the block.
This makes you feel better after being jammed into a plane for hours, and also helps reduce your jetlag.
Travel comfortably
Especially for long haul flights, dress for comfort. Layers allow you to navigate both the cold aeroplane and the hot stuffy airport. Onboard, make sure you have entertainment like a book or Kindle, toothpaste and toothbrush, eye mask, ear plugs, travel pillow, face wipes and a pen!
Jetlag
Jetlag isn't helped if you're tired before you get on the plane, so make sure you're well-rested when you board. Some people take sleeping tablets on long haul flights, but this may increase the risk of deep vein thrombosis.
To help minimise jetlag, swap wine for water to stay hydrated. When you reach your destination, stay awake until 9-10pm then go to bed, to help you get into the right time zone. Resist the urge to nap or to stay up late.
Travel can be simple
There's no need to be stressed or worried about business travel. A bit of planning makes life a lot easier, and the experience a lot more pleasant.
Subscribe to stay up to date with industry insights